Dead cells often give false positive results, as they tend to bind nonspecifically to many reagents. Therefore, removing dead cells from your flow cytometry data is a critical step to help ensure accurate results and analysis. Invitrogen nonfixable cell viability assays for flow cytometry offer researchers options for distinguishing live and dead cell populations that are more accurate than forward- and side-scatter data.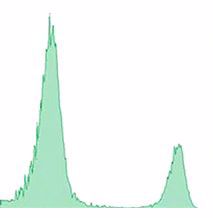 Viability assays using cell-impermeant SYTOX DNA-binding dyes
Invitrogen SYTOX Dead Cell Stains do not cross intact cell membranes, and they exhibit increased fluorescence upon dsDNA binding, making them some of our most brilliant dead cell stains (Figure 1). Easy to use, SYTOX Dead Cell Stains can be applied to cells and visualized without an additional wash step because they are nonfluorescent in aqueous media. Available in multiple single-color formats and compatible with multiple lasers, these dyes provide the flexibility you need. These stains can be used on multiple platforms, including fluorescence microscopy, flow cytometry, and microplates.
Selection guide for cell-impermeant SYTOX DNA-binding dyes
Viability assays using classic cell-impermeant DNA-binding dyes
Cell-impermeant classic DNA-binding dyes include propidium iodide (Figure 2) and 7-AAD. Both of these dyes have been used extensively for viability assays in flow cytometry, since they can be excited by the 488 or 532 nm laser and emit at wavelengths beyond 610 nm.
Selection guide in the Classic DNA-binding dyes tab
Viability assays using esterase substrates
Invitrogen CellTrace Calcein AM dyes can be passively loaded into adherent and nonadherent cells. These cell-permeant esterase substrates serve as viability probes that measure both enzymatic activity, which is required to activate their fluorescence, and cell membrane integrity, which is required for intracellular retention of their fluorescent products. Available with blue, violet, and green fluorescence, these dyes are ideal for short-term staining of live cells and can be used in multiplexed flow cytometry experiments (Figure 3).
See selection guide in Esterase substrates tab
Viability assays using esterase substrates and amine-reactive dyes
LIVE/DEAD™ Violet Viability/Vitality Kit
The Invitrogen LIVE/DEAD™ Violet Viability/Vitality Kit provides a two-color fluorescence cell viability and vitality assay based on the simultaneous determination of live and dead cells with two probes that measure recognized parameters of cell health: plasma membrane integrity as a measure of cell viability, and intracellular esterase activity as a measure of cell vitality (Figure 4). Invitrogen CellTrace Calcein Violet AM and Invitrogen LIVE/DEAD™ Fixable Aqua fluorescent reactive dye are optimal dyes for this application; both dyes utilize the violet laser, allowing other laser lines to be used with more conventional markers.