Introduction to Flow Cytometry – Basics Guide
Flow cytometry is an invaluable technology used in a wide variety of biological research.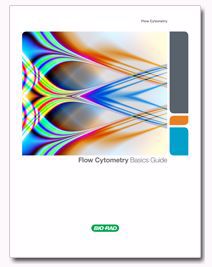 We have updated our popular flow cytometry guide which still contains a basic overview of all the important facets of flow cytometry without delving too deeply into the complex mathematics and physics. We have expanded the guide to include new sections on controls, experimental design, multicolor panel building, uses of flow cytometry and more.
The new guide includes:
Principles of the Flow Cytometer
Principles of Fluorescence
Data Analysis
Controls in Flow Cytometry
Optimizing your Experiments
Multicolor Panel Building
Common Applications and New Technology
Common Protocols
You can view the updated flow cytometry guide online, download it in a PDF form or request a free printed copy.