MojoSort™ is BioLegend's magnetic cell separation system for the isolation and purification of cells from heterogeneous populations. MojoSort™ offers outstanding performance at an excellent price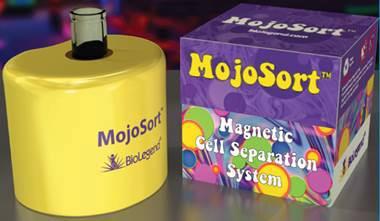 About MojoSort™
What's in the name? From the Merriam-Webster Dictionary, mojo is a power that may seem magical and allows someone to be very effective or successful. And that's what we believe: that by using MojoSort™ you will get great results in your cell separation experiment, and at the same time, save on your budget.

MojoSort™ Nanobeads are magnetic particles directly conjugated to antibodies (positive selection) or Streptavidin. MojoSort™ Isolation Kits typically contain a biotin-antibody cocktail and Streptavidin Nanobeads, intended to isolate an untouched cell population. To use these products, you also need a separation buffer and a magnetic separation system. We recommend our MojoSort™ Buffer (Cat. No. 480017) and MojoSort™ Magnet (Cat. No. 480019).
Free MojoSort™ Magnet
If you are interested in trying out our kits and need a loaner magnet, please contact your local BioLegend representative or our inside sales team to receive a MojoSort™ Magnet (5 ml size, catalogue item 480019). New customers that decide to keep on using the MojoSort™ reagents can keep the magnet. Existing MojoSort™ customers can receive a free magnet with the purchase of three large size MojoSort kits. To redeem this offer, customers must contact their local BioLegend representative or our inside sales team to get a quote for the three kits and the free magnet. Offer valid for direct end users in USA, Canada, UK, Ireland, Germany, Austria, Switzerland, France, Belgium, the Netherlands, and Luxembourg. Restrictions may apply. Other countries, please contact your distributor if interested.