The S3e Biosafety System Class I is an aerosol containment hood custom-designed for the S3 and S3e Cell Sorters, providing users and the environment protection from aerosols created during the cell sorting process. The biosafety system is an affordable alternative to traditional large and expensive biosafety hoods commonly offered for cell sorters.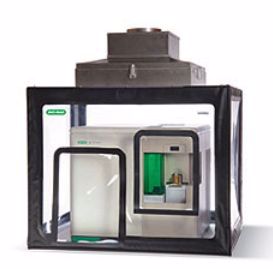 Complementing the compact S3 and S3e Cell Sorters, the biosafety system sits directly on the benchtop. Easy-to-open, magnetically attached vinyl walls provide ready access to all sides of the cell sorter during operation, cleaning and maintenance, or service.
Features and Benefits
Compact and affordable — small-footprint, economical alternative to large and expensive traditional biosafety hoods
Software controlled — full integration with ProSort™ Software for fan speed regulation and temperature monitoring in real time
Fully accessible — easily opened vinyl walls are magnetically attached, allowing access to all four sides of the S3 or S3e Cell Sorters for cleaning and maintenance
Quiet and energy efficient — generates low vibration and sound pressure levels; specialized fans and low backpressure from the HEPA filter reduce energy consumption
Full integration and monitoring by the S3 and S3e Cell Sorter's ProSort Software gives users real-time information about HEPA filter life and the temperature of the system inside. Fan speed is determined based on the cell sorter operation mode — sorting or idle. The HEPA filter provides protection at 99.997% for 0.3 µm particles. The system is able to perform 100% air exchange 6–8 times per minute around the S3 and S3e Cell Sorters.
The S3e Biosafety System meets the requirements set by the National Institutes of Health (NIH) standards for Class I biosafety and the International Society for Advancement of Cytometry (ISAC) guidelines.