Bio-Rad offers a wide range of antibodies conjugated to the most commonly used fluorophores. In addition to FITC, PE and APC, we also offer Alexa Fluor and DyLight conjugates in an array of colors, both with outstanding spectral properties, suitable for use in flow cytometry, fluorescence microscopy, and fluorescent western blotting.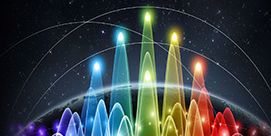 If you can't find the labeled version you need, our easy-to- LYNX Rapid Conjugation Kits® for many popular dyes and tandem conjugates, and Readilink Antibody Conjugation Kits for flow cytometry optimized fluorophores can help.
Check out our new StarBright Fluorophores developed for flow cytometry
Fluorophores for Flow Cytometry
Not all fluorophores are suitable for all antibody based applications. For example, even though PE is bright, it is easily bleached and is therefore not suitable for fluorescence imaging. Due to the increase in the size of flow cytometry panels, flow cytometry requires bright fluorophores that have specific excitation and emission wavelengths from one laser. The fluorophores must be compatible with each other in the panel, and ideally should be photostable, with no loss of fluorescence when fixed.
Visit bio-rad-antibodies.com/flow-cytometry-fluorophores for more detailed information on flow cytometry compatible fluorophores, including our new proprietary StarBright Fluorophores