by flow cytometrists, for flow cytometrists
Wolf & Danniel Motorized Cuvette Positioning System
Wolf & Danniel is a Czech life science technology company with a primary focus on the most up-to-date laboratory technologies and hi-tech laboratory instruments. We cover a broad range of services from laboratory design to deliveries and technical after-sales care.
In order to succeed in our mission we have developed a network of partners which allows us to share the most current knowledge, transfer technologies from research to commerce and provides an excellent platform to bring current technologies to work at our customers' laboratories.
WHY UPGRADE?
Have you observed similar fluctuations of fluorescence peak position within longer measurement?
Have you noticed that a measurement of a good sample (see interval A with CV=1.8%) gets much worse only due to instrumental errors (see complete range B with CV=3.0%) ?
One of the contributions to these fluctuations is the mechanical or thermal drift of the cuvette in the XY-stage
KEY FEATURES OF MOTORIZED CUVETTE POSITIONING SYSTEM
mechanically robust construction ensures that cuvette is kept in the same position, which improves reproducibility and stability within measurement series
more precise in finding the optimal spot for the best CV
as an optional add-on the whole MCP system is completely REMOVABLE (upgrade is warranty safe)
exactly defined step in X and Y directions down to 5um*
extended software functions for easier, safer and faster cuvette handling
Please find attached bellow a presentation leaflet for Motorized Cuvette Positioning (MCP) System.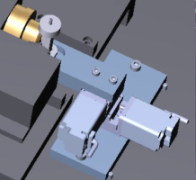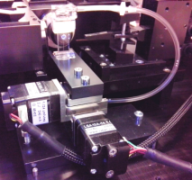 Download Product Sheet (PDF, 2.5 MB)
Flow Cytometry is a play of lights and reflections. It can be used in many applications from routine immunology labwork to specialized research laboratories, where various cell membrane epitopes or nuclei variations are examined. Flow Cytometers since their development in the 1960's underwent a long way and became highly sophisticated devices.
Combining up to 5 different light sources (mostly lasers) with precise optics, sensitive fluidics and computerized electronics in one machine, Flow Cytometry is now one of the most challenging fields for any company dealing with Life Science laboratory instruments.
We have deployed flow cytometry systems in a number of laboratories in the Czech and Slovak Republics. Through many specially cutomized solutions we have obtained valuable experience and know-how in this field. Our technical support centre is available to all customers in any country as an alternative to calling Partec (acquired by Sysmex) support directly.
We started cooperation with Partec in 2003. From 2005 we have agreed to cooperate on the exclusive distributor basis for the Czech and Slovak Republic and on the non-exclusive basis for Central European region. In 2014 Partec was acquired by Sysmex. From 2015 our company has no distributor status for Partec product range.