by flow cytometrists, for flow cytometrists
Malaghan Institute of Medical Research (Wellington, NZ)
The Malaghan Institute Cell Technology Suite offers state-of-the-art cell analysis, including - flow cytometry, cell sorting, cryosectioning, immunohistochemistry and immunofluorescence microscopy.
It provides crucial services, support and training not only to Malaghan staff, but also to the wider scientific community, especially in regards to new clinical research opportunities.
The Cell Technology Suite is proudly sponsored by the Hugh Green Foundation and Frank Millar & Co Ltd, Wellington - Industrial & Commercial Electricians.
Flow Cytometry Instrumentation
The Malaghan Institute Flow Cytometry Suite provides access to the following resources:
Benchtop Analysers: FACSCalibur, LSR Fortessa, LSRII
Cell Sorter: FACSVantage DiVa, ACDU
Ancillary Equipment: High Throughput Sampler for LSRII, BioPlex, AutoMACS
Download FACS Vantage DiVa configuration.
BD FACSCalibur
This benchtop analyser is capable of supporting a wide range of basic flow cytometric applications. It is engineered with fixed optical, electronic and fluidic components, giving them the flexibility to function as an investigator-operated instrument.
Download BD FACSCalibur configuration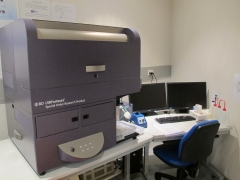 BD LSR Fortessa
The BD LSR Fortessa is a digital benchtop analyser flow cytometer. It is a four-laser machine that has 15 optical detectors and removable optical filters that can permit the detection of different fluorophores and fluorophore combinations.
Download BD LSR Fortessa configuration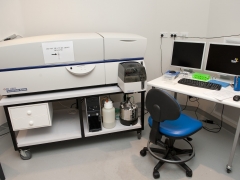 BD LSRII Special Order Research Product (SORP)
The LSRII flow cytometer is a digital bench top analyser. It is an 18-colour, 5-laser machine that has optical detectors and removable optical filters that can permit the detection of different fluorophores and fluorophore combinations.
Download LSRII-SORP configuration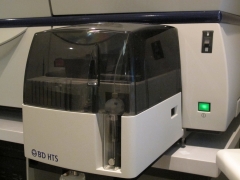 BD High Throughput Sampler (HTS) for the LSRII
The HTS option allows users to rapidly acquire samples from a plate. The HTS supports 96-well plates, as well as 384-well plates.
The HTS can process a 96-well plate in ~45 minutes in "Standard" mode (taking 10µl of sample) and ~15 minutes in "High-Throughput" mode (taking 1µl of sample).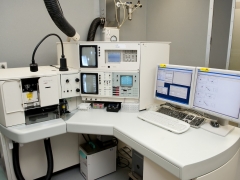 FACS Vantage DiVa
The FACSVantage DiVa is a high performance, high speed, sterile, cell sorter that can isolate up to 15,000 individual cells per second. Sorted cells are then returned to the researcher so they can continue their study into how this cell of interest may be involved in the particular disease they are studying. The sorter is capable of simultaneously sorting up to four different cell types from a given sample.
Download FACS Vantage DiVa configuration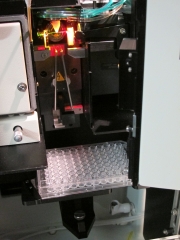 BD Automated Cell Deposition Unit (ACDU)
The FACS Vantage DiVa is equipped with an Automated Cell Deposition Unit (ACDU), which allows for event deposition onto slides, into 96 or 384 wells plates, or other custom collection devices.
This unit allows us to sort single cells with over 95 % confidence.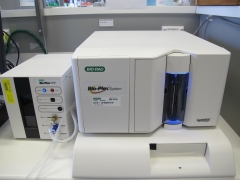 BioRad BioPlex 200 - Multiplexing Bead Array Plate Reader
The BioPlex 200 is built on xMAP® technology and is remarkably easy to use. It combines two lasers, fluidics, and real-time digital signal processing to distinguish up to 100 different colour-coded bead sets, each representing a different assay. The microplate platform automates the reading of 96-well plates and yields up to 9,600 data points in ~35 minutes. Our BioPlex is also equipped with the High-Throughput Fluidics (HTF) option which delivers up to 20L of sheath fluid (~40 plates) without user intervention.
AutoMACS
The AutoMACS™ Separator is a benchtop instrument for high-speed automated cell sorting. Employing the MACS® Technology, the autoMACS Separator is designed for positive selection as well as depletion of magnetically labelled cells.
The autoMACS Separator is operated with preset separation programs, thus allowing optimisation of cell sorting approaches according to cell abundance and the intensity of marker expression.